This is a Sponsored Post and all opinions are mine!
Top 3 things to do in San Diego!
There are plenty of other things to do in San Diego besides the ones on this list. If you're looking for something else, or something different, start with these 3 Thing You Didn't Know You Wanted to Do in San Diego.  Make sure you check out Groupon for coupons on things to do in San Diego.   https://www.groupon.com/local/san-diego/things-to-do
Sea World San Diego is the California outpost of the ocean-themed chain of parks. Everyone knows who the main attraction is here: Shamu, the killer whale (orca) – or over the years, a succession of Shamus. Groupon always has deals on Sea World!!
Shows are central to the Sea World Experience and there are many of them, but you'll also have opportunities to see marine creatures close up and in a few cases, you can touch and feed them. In recent years, Sea World has added a few rides and a kids' water play area. It takes a half day or longer to see everything and in summer, a good strategy is to arrive in the early afternoon, staying until the fireworks display.
Birch Aquarium
Birch Aquarium is north of San Diego in La Jolla. It's not as big as some of the other aquariums in California or as flashy as the big sea-themed park down the road, but instead just right, filled with interesting exhibits and home to leafy sea dragons like the one above, creatures, so improbably they look more like something from a children's book than from the ocean.
At the Birch Aquarium, you can watch the creatures being fed, touch some in an outdoor tide pool and get mesmerized gazing into a 70,000-gallon kelp forest.
San Diego Zoo
The San Diego Zoo is top-rated everywhere, consistently included on various top zoo lists and active in animal conservation. The San Diego Zoo put its first animal on display in 1916, a Kodiak bear named Caesar. Today, the San Diego Zoo is a far cry from the zoos of yesteryear where animals were simply displayed in cages. Instead, you'll find them in the most natural settings possible, at the same time giving visitors the opportunity to see them up close.
Take a Harbor Cruise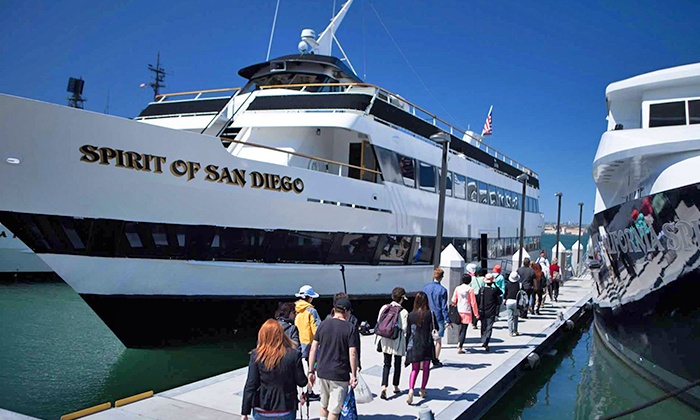 Water plays a prominent role in San Diego. Downtown faces it. Point Loma and Coronado surround the large, calm bay. There's a lot to see along its shores and much of it is best explored by boat.
Everyone love the views of downtown you can get from a San Diego harbor cruise, but you'll also get a peek at the Pacific Fleet – and a harbor cruise is the best way to get a feel for just how tall the Coronado Bridge really is.
If  you want to know more about what attractions Groupon has on San Diego please check out the following sites:
 Facebook – https://www.facebook.com/Groupon.US/?brand_redir=526662987435979
Do you use Groupon to see what deals are available in your city?